Sixers face Bulls in home opener tonight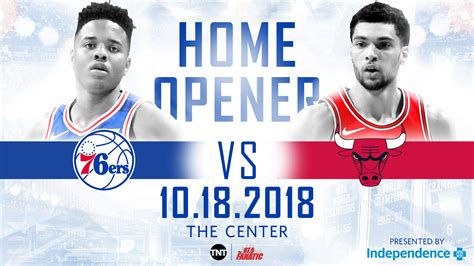 After a crushing 18 point loss to the Celtics in the season opener, the Sixers will play on their home court for the first time this season. They will be taking on the Chicago Bulls, a team that they beat two out of three times last season.
The Sixers hope to turn around they're 0-1 season. In their last game the team ran into a stacked powerhouse that is the Boston Celtics. However, not all was negative. The team saw Joel Embiid continue to be the dominant big man and saw players like T.J. McConnell, and JJ Redick play well off the bench. The most dominant player was clearly Ben Simmons. Simmons nearly put up a triple double with a stat line of 19 points 15 rebounds and 8 assists in 43 minutes. Simmons put his skills on display throwing passes straight out of a "Pistol" Pete Maravich highlight film.
Simmon's and Embiid's play was not enough to keep the game remotely close. The lack of bench play and overall competitiveness, along with an abundance of turnovers lead to their demise. The Sixers hope they can continue to defend home court just as they did last season. Last year the Sixers won 30 of their 41 home games. Their ability to be dominant at home helped them go on a 16 game win streak to end last years regular season.
Chicago is in a much better spot than they were at the start of last season. After the trade of their only remaining star, Jimmy Butler tensions were high. This was evident when young big man Bobby Portis and Nikola Mirotic got into more than just a scuffle at a team practice. The result was facial fractures for Nikola Mirotic and the team needing to figure out which one of those two to trade. After missing about 4 months to the injuries, it was evident Mirotic and Chicago needed to part ways, resulting in him going to New Orleans for 3 players and draft picks.
Chicago's issues would translate from the locker room onto the court. The Bulls finished in the bottom five for defensive efficiency and points per game, as well as in the bottom ten teams for three point percentage. They would finish the season with the third worst record in the eastern conference, at a discouraging 27-55.
This earned them the seventh overall pick with which they selected Wendell Carter Jr. out of Kentucky. Chicago plans to add the 6'10 center/power forward with they're already talented young core of playmakers in Kris Dunn and Denzel Valentine, 2x slam dunk champion Zach LaVine, sharpshooting forward Lauri Markkanen, as well as winger Jabari Parker who the team inked to a two year 40 million dollar contract this offseason.