Athlete Spotlight: Kenny Smith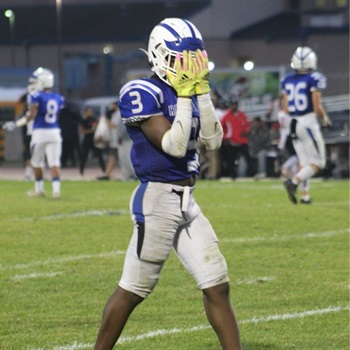 Sophomore Kenny Smith (#3) had an amazing year for Hammonton football. In only his second season with the Blue Devils football program, Smith scored 21 rushing touchdowns with another 2 receiving tds. Rushing for over 1600 yards in the season and over 1700 all purpose yards, the future is bright not only for Kenny, but for the entire Blue Devils football program.
How did it feel coming back into year two, and what were your expectations?
Coming into my sophomore year was exciting, my freshman year I showed glimpses of my potential and I knew if I stayed focused and took the weight room seriouslyI could make an impact this year."
What is your biggest achievement during the '22 season?
One of my biggest achievements was making first team all conference, another goal I had was to reach over 1,000 rushing yards and I passed that with 1680 yards."
What is the most challenging part of being the lead RB for Hammonton?
Being the lead RB for Hammonton is hard on your body, you have to take care of yourself, stretch, drink water to prevent an injury."
Who got you into playing football, your inspiration?
"I got into playing team football from my family watching my brother playing in highschool. I always wanted to be on that field, I started playing when I was 4 and never stopped since then."
What is one thing you learned this year from football?
"This season has brought us so many lessons and moments I will cherish forever this year. I learned that in order to be a winning team, people have to buy in and do there job and bond together like brothers."