Riley's Move to USC Shocks the College Football World
As the College Football regular season comes to a close and bowl season rapidly approaches, many changes are being made to multiple large programs across the country, with big-name coaches moving to different programs, and other schools bringing on coaches that are less known or have not yet served in a head coaching position.
Arguably the most shocking change, now former Oklahoma head coach Lincoln Riley is taking his coaching abilities to USC, who have struggled over the past few seasons.
Riley has had immense success at Oklahoma since becoming head coach in 2017 after replacing Sooners legend Bob Stoops. During is tenure as head coach, he has gone 55-10 with three playoff appearances in a row from 2017-19. He has also been able to rack up four Big 12 conference titles, spanning from 2017-20.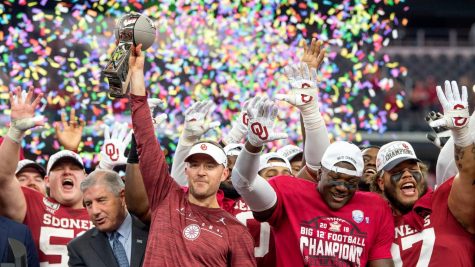 As a mentor of players, Riley has been absolutely incredible, especially with quarterbacks. Riley coached both the 2017 Heisman winner, Baker Mayfield, and the 2018 winner, Kyler Murray. There have only been four other times that a school has had back to back Heisman winners in college football history. Both Mayfield and Murray are now starting quarterbacks in the NFL, with the Browns and Cardinals, respectively. He also coached Eagles quarterback Jalen Hurts in 2019, where Hurts was a Heisman finalist.
Riley now looks to bring back the glory of USC football.
Riley's contract with USC is reportedly the largest in college football history. According to a tweet made by Robert Hefner V, Riley's contract is worth $110 million though its total duration. Hefner continues on to report massive incentives that it comes with, including USC buying both of Riley's homes in Norman (Oklahoma) for $500,000 over asking price each, USC buying him a $6 million home in Los Angeles (where USC is located), and Riley being given unlimited 24/7 use of a private jet for both him and his family.
Riley's hiring by USC will undoubtedly have an affect on USC's performance and the standings in college football as a whole, as the program can likely expect to be more competitive with Riley at the helm due to his pedigree. His hiring may be USC's chance to get back into the conversation of a potential college football playoff berth if Riley's record is able to carry over.
His move to USC has already made an impact in the recruiting world, as five-star running back Raleek Brown has already flipped his commitment from Oklahoma to USC, in a move to follow Riley. The change will likely impact the recruitment of quarterbacks in particular, as Riley is known as a "quarterback guru." Many quarterbacks who aspired to go to Oklahoma may now look towards USC for the opportunity to play and develop under Riley.
Riley did not coach in the Trojans' final game of the season against Cal, as he is still settling into his new position. Interim coach Donte Williams remained in control of play calling for the finale.
Other notable coaching changes in College Football include Norte Dame's head coach Brian Kelly going to LSU, Louisiana's head coach Billy Napier going to Florida, and Penn State's defensive coordinator Brent Pry taking the head coaching job at Virginia Tech.
Oklahoma has hired Clemson's defensive coordinator Brent Venables to replace Riley as head coach.