What happened to the Philly Phanatic??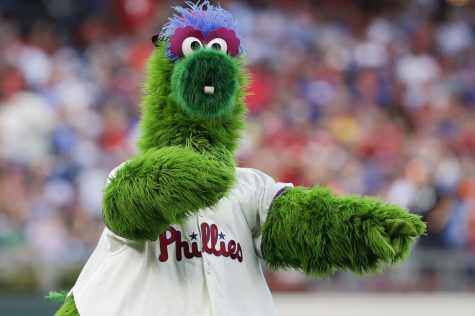 Some would call him the greatest mascot in the world. The green-haired, big-bellied, upbeat with a love for the Phillies has made him the most interesting character in all of Philadelphia. Although we don't know exactly what he is, we do know he is the most Philadelphia thing there is. The Phanatic's shenanigans at the ballpark on the day to day make him loved by many even by the away teams.
The Phanatic's origins date back to the late 70s when Bonnie Erikson and Wayde Harrison created the 'creature' that became the Phanatic. The Phillies organization at the time didn't purchase the rights to this mascot for $5,000 which was a costly decision. In 1984 the Phillies ended up having to purchase the rights to the Philly Phanatic for $250,000. In the contract it did however allow the creators to renegotiate after 35 years.
On August 2,2019 the Phillies organization decided to file a lawsuit against the creators, creators were threatening to sue, saying that the Phanatic was their  "idea" and that the creators just executed the look. The Phillies contract with the Phanatic ends on June 15th and by then they'll need to negotiate a new deal.
The Phillies altered the Phanatic's look with adjustments to the shoes, tail, eyes, arms, and a few other minor details. These changes show that the Phillies have designed the phanatic enough so that it strays away from Erickson/Harrison's original draft. The creators did not like this response and in an article, Harrison said " The Phillies lack good faith in negotiating for an extension of the copyright assignment for the Phillie Phanatic is disappointing. But the unveiling of the so called 'new' Phanatic on Sunday is an affront to our intellectual property rights and to Phillies fans everywhere."
Erickson also added " The Phanatic has performed successfully for the Phillies and the city of Philadelphia for decades. The 'Business decision' by the Phillies to roll out this "new" Phanatic is a transparent attempt to deny us our rights of the Copyright Act. We would love to have the real Phanatic continue with the Phillies." The Phillies did not respond to this statement and will continue its case.
There is no doubt that everyone in Philadelphia wants to keep their beloved mascot at the Ballpark. This lawsuit has made fans upset with both parties not being able to come to a settlement. It is unsure if the Philly Phanatic will get back to its original look, but one thing is for sure We don't want to lose the Phanatic's personality