Oscars 2021 : Who Will Win? Who Should Win?
The 93rd Academy Awards will air live on Sunday, April 25th on ABC. This annual award show is always a nail-biter for the average film enjoyer. Whether they use the awards to find new acclaimed films to watch or hope that their favorite films win their nominations, millions of people tune in yearly. Though this award ceremony has been exposed for its faults in awarding cinema, the awards still mean a great deal to those in the industry. Out of the most popular categories, these nominees are head-to-head and it is anyone's win.
Who Should Win? It is always great to see a female role that is separated from men and shows a complex female character with her own desires, troubles, and successes. Each of these films portrays a complex character who exists with her own development unrelated to men. Viola Davis always gives an astounding performance and in Ma Rainey's Black Bottom she gives a soulful performance. Vanessa Kirby gave a stunning performance in Pieces of a Woman showing the horrors of a mother losing her child. Carey Mulligan portrayed her character phenomenally in the dark comedy Promising Young Woman.
Who Will Win? Carey Mulligan in Promising Young Woman will win the Oscar. Known for more mundane roles, Mulligan depicts a suffering woman who plans vigilante revenge on the men who assaulted her best friend. She gives a splendid performance and her portrayal of a tormented mind doing anything in the process to avenge her friend hits everyone where it hurts.
Who Should Win? Steven Yeun in Minari, Chadwick Boseman in Ma Rainey's Black Bottom, and Anthony Hopkins in The Father. Each man gives a great show of their character, each different yet portraying their characters with the same passion. Seeing Steven Yeun's Korean-American dream contrast yet compare so greatly to his former character on The Walking Dead shows a family's struggled to fit in America and realize what holds them together. Hopkins' character is stricken with dementia in his film and his scalding performance displays how Hopkins' still got it–even at 83.
Who Will Win? Chadwick Boseman in his final film before his tragic passing, Ma Rainey's Black Bottom. Boseman gives a wonderful adaptation of the play when we see Black music stolen in the early 20th century. It was refreshing to see Boseman's multi-layered talent shine in this film as he displays black art, through black art.
Who Should Win? I am an unashamed sucker for animated films and I am quite satisfied with the nominees for this category. I think that it is anyone's game, once again. Out of the five nominees, Soul and Wolfwalkers deserve this win. Both animations have different themes they are trying to get across and yet they both appeal so greatly to a younger audience.

Who Will Win Because of its huge impact since its release, the Oscar will go to Soul. This was an unprecedented casting in a Pixar film. Soul is the first Pixar film to feature an African-American protagonist. Representation in children's movies is so important and this film instantly became a hit amongst all age groups.
COSTUME DESIGN
Who Should Win? Bryne has had 6 nominations for her costume work, and Emma might bring her the second Oscar alongside her work in Elizabeth: The Golden Age. Roth is also a competitor for her work in Ma Rainey's Black Bottom, with previous nominations and a win under her belt as well. Both of these films could win it with their costume designs.
Who Will Win? Though I think that Bryne has done an amazing job with her costume work, I think that the award will go to Roth. Her costume design on Ma Rainey's Black Bottom was impeccable.
MUSIC (ORIGINAL SCORE)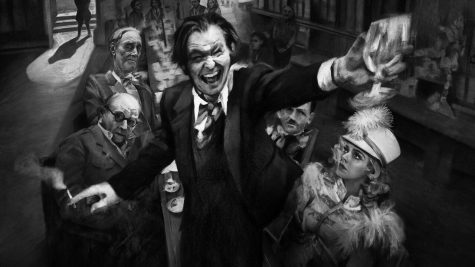 DA 5 BLOODS (Terence Blanchard)
MANK (Trent Reznor and Atticus Ross)
MINARI (Emile Mosseri)
NEWS OF THE WORLD (James Newton Howard)
SOUL (Trent Reznor, Atticus Ross & Jon Batiste)
Who Should Win?  Mank, Minari, and Soul. Out of the nominees, these three had my particular favorite original scores.
Who Will Win? This win will go to Soul. Not only the film itself gained so much popularity, but its soundtrack became popular just as quickly. I think Soul will walk away with a few groundbreaking wins.