Best Cover Artists on YouTube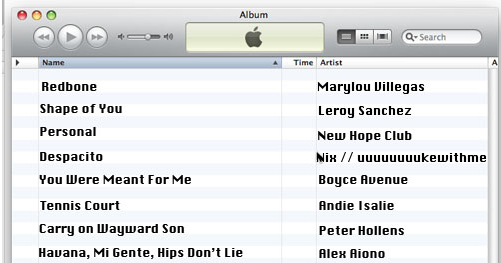 Hang on for a minute...we're trying to find some more stories you might like.
YouTube has a lot to offer, including some of its hidden gems: covers.  A cover is a version of a song sung by someone other than the original artist, and they make the song their own with personal style and sometimes instrumental arrangements.  Mash ups, a combination of a few songs played as a performance, are some of the best things to check out on Youtube.
Be sure to click on the interactive graphic to listen.
1.) Marylou Villegas 
Marylou has a sweet-sounding voice who usually does covers with her acoustic guitar and piano.  Other than covers, she also posts some of her own original songs.  Her version of "Redbone" by Childish Gambino creates a cool, refreshing vibe to the R&B song.
2.) Leroy Sanchez
Leroy is an amazing singer with an incredible range and sense of creativity.  He put together an arrangement of Shape of You by Ed Sheeran.  His cover is in half English-half Spanish, to please both his English and Spanish speaking audiences.
3.) New Hope Club
The New Hope Club is a British boy band who often use their own instrumental accompaniments.  Their names are George, Blake and Reece, and they bring tons of energy and creativity to their covers.  Check them out!
4.) Nix // uuuuuuuukewithme
Nix has a cute little voice and knows how to play a ukulele.  Her ukulele skills give her songs a Hawaiian feel to it, changing the tone of even the most popular songs.  Despacito is s great example.  With her beautiful voice and smile, she makes her covers truly enjoyable.
5.) Boyce Avenue
Boyce Avenue has over 10 million subscribers on Youtube because of his great music.  He has made hundreds of covers, all of which being extremely successful.  He often uses his acoustic guitar to play while singing.  He is all over Spotify as well, so give him a listen!
6.) Andie Isalie
Andie has a great voice and is skilled with her instrumental playing skills.  My favorite of her covers is "Tennis Court" where she plays her ukulele.  She truly made the song her own.  Since 2013, when her version of "Tennis Court" was released, she has made so many more covers and has collaborated with many other singers.
7.) Peter Hollens
With a beautiful, broadway style voice, Peter Hollens has become very popular on Youtube.  He is known for editing different clips of himself singing to form many harmonies and voice parts.  "Carry on Wayward Son" is only one of the many of those videos.
8.) Alex Aiono 
Alex Aiono creates all of his own beats with his sound equipment.  His modern voice can please anyone.  He's also a great rapper, so check him out!
9.) Kurt Hugo Schneider
Kurt Hugo Schneider is incredibly talented.  He films all of his own videos, adding very cool special effects.  He features different singers in every video and plays all the instruments included.  You will not be disappointed by KHS!
10.) Conor Maynard
Conor Maynard is a respected cover artist who frequently hosts sing offs with other artists.  He sings songs from many genres and is very multi-talented.