What to look for in the upcoming NFL playoff games
Raiders at Bengals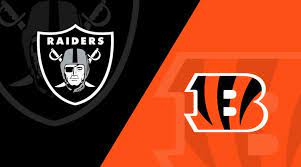 4:25 Saturday 01/15
In this high level match up of dueling star quarterbacks, there will be ample opportunity to put points up on the board.  These are the top things to look for in this heavy offense duel:
Can the Bengal's offense continue to rack up the yards? Specifically can Joe Burrow and Jamar Chase continue their deadly connection. Chase is coming off a week 17 performance in which he broke Justin Jefferson's rookie receiving yards record.  In that game against Kansas City, Chase put up 266 receiving yards and 3 touchdowns against a pretty hot Chiefs defense. Chase's partner in crime, QB Joe Burrow has also been heating up as of late. Burrow has thrown for over 450 yards in each of his last two games. It will be interesting if they can continue the trend against this Raiders defense.
Speaking of the Raiders defense, will they be able to stop the Bengals offense? The raider defense just came off a week 18 performance in which they allowed Justin Herbert and the Chargers to score 32 points, and have the 25th ranked defense in the NFL (per ESPN). The ability to stop Burrow, Chase, Higgins, Mixon and co. could prove to be the Raiders Achilles heal in this match-up.
Will Derek Carr be able to stretch the ball downfield? Carr just got his top tier tight end, Darren Waller back from a hip injury after multiple missed weeks.  He could be a key piece for this offense, but in order to beat this Bengals defense, the Raiders will have to throw the ball downfield. Speedy veteran receiver, Desean Jackson could get a few targets this week, but Carr will have to find his groove in the deep pass game to get the wheels rolling for this offense.
Patriots at Bills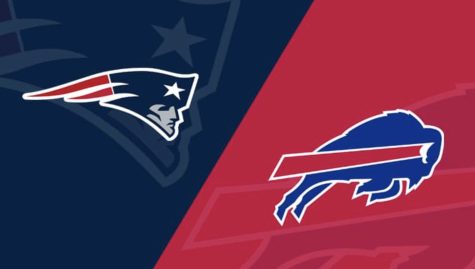 8:15 Saturday 01/15
The third and final Bills-Pats matchup of the year could possibly be the best one. The Bills are on a role and although the Pats lost to the Miami Dolphins in somewhat of an embarrassing fashion, expect Belichick to have a game plan ready for Josh Allen and the Bills.
Will Mac produce or struggle? In each of their prior two games against Buffalo, Mac has had a tough time finding his receivers. In his two matchups against the Bills, Mac has thrown for only 204 yards, with zero touchdowns and two interceptions. Not ideal for the rook, but if he can rebound and lead the Pats to the divisional round, all of that will be forgotten.
Will the Bills run defense hold? According to past experience, it hasn't gone well for the big boys up front in the Queen City, allowing Damien Harris to rush for over 200 yards and four touchdowns in their last two battles against New England. Veteran guys on the defensive line like Jerry Hughes and Mario Addison will have to step up and prove that they can stop the Pats run O.
Will the Bills secondary be able to overcome the Tre White injury? Levi Wallace and Taron Johnson will have to step up and stop the New England passing attack. As long as they provide serviceable coverage against the Pats receivers, Jordan Poyer and Micah Hyde should be able to clean up the back end.
Eagles at Bucs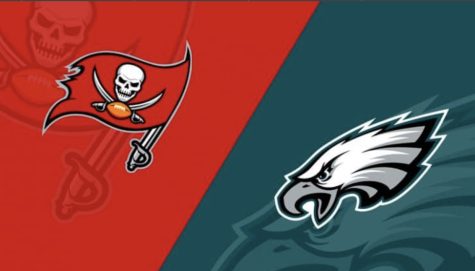 1:00 Sunday 01/16
Tom Brady will be looking for his sweet sweet revenge against this Philadelphia squad after they beat Brady's Patriots in the 2017 Super Bowl.
Can Bucs find a way to win even with surplus in injuries? Shaq Barrett, Chris Godwin, Leonard Fournette, Richard Sherman, Ronald Jones and more are all out for the Bucs against the Eagles. It will certainly be a next man up mentality for Brady and the Bucs, especially at the wide out position. They are short Chris Godwin, Antonio Brown (for obvious reasons), Cyril Grayson and Justin Watson. Some young guys are going to have to step up in the receiving game for Tampa.
Will Jalen Hurts and Devonta Smith continue their hot streak?  Devonta Smith has been everything the Eagles has asked for this year. Jalen Hurts will have to find his rookie receiver to be successful in this game. Smith should be able to break free a few times considering the Bucs secondary is depleted.
Eagles have to continue the dominant running game to have a chance. It is no secret that the Eagles are coming in as underdogs. Miles Sanders and the offensive line will have try and find a way to penetrate that stout Bucs front seven .  Sanders averages 6.2 yards per attempt which is top 3 in the league. Nick Sirianni will have to find a way to utilize their star back.
49ers at Cowboys 
4:30 Sunday 01/16
San Fran is coming off of a nice come from behind win against Los Angeles, but can they keep the wheels turning? 49ers are 1.5 point underdogs coming into the week against Dallas. This one is gonna be a doozie.
Can Jimmy G pull it off, and if not is it time for Trey Lance? The game manager narrowly beat the Rams last week and is having a up and down season, but he did lead the 49ers to the playoffs after a disappointing 2020. He will need to test Trevon Diggs and that Cowboys secondary, if they want a chance to win. Garropolo will also have to limit the turnovers, as well because this Cowboys offense will make you pay big time.
Will Parsons and Diggs steel Dak´s show? This game will go one of two ways. It will be an offensive explosion or a defensive battle, and if it is the ladder, expect Diggs and Parsons to lead the show. Diggs has a league leading eleven interceptions this year and Parsons is the defensive rookie of the year front runner. It will take a lot for this 49ers offense to neutralize them.
Will we be seeing great Dak or not so great Dak….? It is fair to say that Dak has had some bumps in the road this season. But do not put it past him to throw for 450 yards and 5 touchdowns, because he is fully capable. Dak needs to find his receivers in open space in order to have the best impact. He has to protect the ball, because this San Fran D is legit.
Steelers at Chiefs

8:15 Sunday 01/16
Pittsburgh got some help from Las Vegas to get to this point, but they will have to be dominant this week if wish to take down Pat Mahomes. Steelers are multiple point underdogs entering Friday.
Will this be Big Ben's final send off? Many around the NFL thought week 18 would be the last time Ben Roethlisberger would step on a football field, spoiler, it wasn't. Ben and Pittsburgh will have to control the time of possession this game if they want to take down the reining AFC Champs, and continue Ben's career.
Tyreek Hill or no Tyreek Hill? It was clear last week that the top deep threat in the NFL was not comfortable with his heel against Denver. If he is unable to play, then it could prove to be difficult for the Chiefs to stretch the field. If Hill can not play then expect Mecole Hardman and Travis Kelce to carry this offense in terms of receiving.
Steelers NEED T.J Watt to step up big time. It isn't exactly a secret that the Steelers don't have the scariest offense in the league. With that said, Watt and co. will have to take center stage and dominate the trenches in K.C this week. They have to apply pressure to Mahomes and make him turn the ball over.
Cardinals at Rams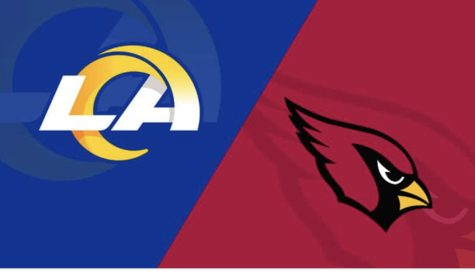 8:15 Sunday 01/16
LA vs. AZ round three could be a fun one. It will be interesting to see if Stafford or Murray will prevail victor in this weeks finale.
Can Matt Stafford protect the ball enough this week? Last week against SF he had that huge game ending interception that just cannot happen again if the Rams want to win this game.
Will Murray's play making be too much for the Rams? Rams have to play contain and just hope that the secondary holds this week against a dual threat like Kyler Murray. No Deandre Hopkins, but Murray is dangerous nevertheless.
Cooper Kupp. That's it, just him. The Cardinals cannot have Kupp running around the field doing what he wants. Kupp has been statistically, the best wide out in the game this year. Budda Baker and Byron Murphy have to contain him as much as they can.