Lure of the Week: Yum Money Minnow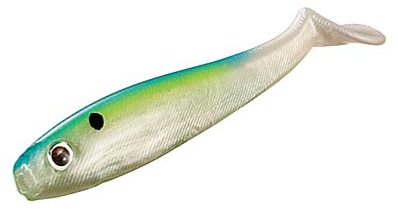 The waters of the world are ruled in a dog-eat-dog fashion, or in their case, a fish-eat-fish fashion.
Why don't fishermen let these predator fish bite into something they can't handle?
There's only one lure that can start a feeding frenzy. There is only one lure that the fish can't resist. There is only one lure that claims the name as the Yum Money Minnow.
What is it?
The ideal live bait that most anglers use is the minnow. With a bobber and an eagle claw fishing hook, minnows can be deadly. The only problem is that it isn't the 1970s anymore and the game of fishing has evolved. The only way to evolve with the game is to evolve your tackle. And the only lure that can outsmart the fish cast in and cast out is the Yum Money Minnow.
This lure puts a twist on fishing the typical swimbait. Swimbaits are fishing lures that resemble baitfish such as minnows or shad swimming through the water. What makes this lure different from others is its unique belly slot. This gives anglers an advantage and is one of the more rigging-friendly swimbaits. This belly slot allows anglers to set the hook easier because there is less material for the hook to go through. The Yum Money Minnow comes in 7 different colors and 3 different sizes.
What the Professionals Say
Professional fisherman Chris Elder talks about the new Yum Money Minnow on Basspro.com.
"I have a 2 1/2 inch Money Minnow that has proven beyond belief… You can reel it fast to make it vibrate through the water or you can retrieve it slow to make the tail twitch," he wrote. "We caught a good amount of fish on this bait and I don't know if we could have gotten a bite on anything else."
My Experience
When I use the Yum Money Minnow, I use a 3-O weighted Swimbait hook and throw this lure out with a far cast and a slow retrieval. On slow days when I am trying to entice the slow moving Large Mouth, I will put this Swimbait on a Shaky head Jig and slowly twitch this lure off the bottom of the lake or pond I am fishing at.
Receiving a 4.4/5 star rating from basspro.com, the Yum Money Minnow not only has my approval but that of anglers around the world. When the day is going slow and the fish just aren't biting, you need to throw something that the fish can't turn down.
When I go fishing, I never leave home without the Yum Money Minnow. And when I go fishing with the Yum Money Minnow, I "Fear No Fish."