Lure of the Week: Bomber Square "A"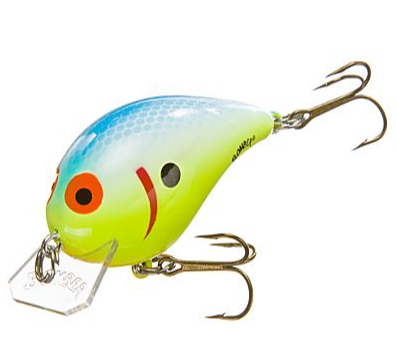 The traditional Crankbait is a well-known lure that can be used in any situation. Whether one is fishing for largemouth bass during the spring spawning season, or trigger fishing for aggressive smallmouth bass during the summer, Crankbaits are a go to lure.
Bomber industry, one of the leading corporations in producing Crankbaits, have managed to revolutionize the game. The Bomber Square "A" Crankbait is a new and promising advancement to the game of fishing.
The thing that makes the Bomber Square "A" different from other Crankbaits is its lip. All Crankbaits have a lip on the front of it that allow it to wobble back and forth. This wobble motion allows them to resemble baitfish like Shad or Minnows swimming through the water.
However, this lip however has a disadvantage. The standard lip found on most Crankbaits can get caught on most underwater debris such as timber, stout brush and other heavy cover. This is where the Square "A" shines. The Bomber Square "A" has a square paddle lip with chamfered corners. The advantage this lip has over the traditional lip is its ability to bounce off objects. Now, fisherman can throw Crankbaits where they could never go before.
David Dudley, a professional fisherman whose commentary appears on the Bass Pro Shop website, shares his insight about the lure.
"Let me tell you about the Bomber Square "A". It is one of the best heavy cover Crankbaits you can throw. If you're a shallow water fisherman and don't have a Square "A" Bomber, you need to get one in your box today, that's a fact!," he wrote online.
Not only is the Bomber Square "A" recommended by many professional fishermen, but it is also highly reviewed on one of the world's most established fishing websites. On Basspro.com, the Square "A" has earned a 4.5/5 star rating.
My Assessment
I regard this Crankbait as the lure of the future. As a shallow water fisherman in the ponds of Hammonton, I understand the neccesity of a weedless lure.  When throwing the Square "A" 1/4 0z Oxbrow Bream, I am confident with its weedless abilities to catch fish. For me, this lure has caught Large Mouth Bass, Pike, Perch and the occasional large blue gill. There is not a fish that can hide from the vibrant colors the Oxbrow Bream can offer.
I have also found that this lure can be fished with any technique. Whether one is just reeling in or swimming this Crankbait with a jerk action, the lure produces results. These results allow me and the Bomber Square "A" to "fear no fish."