Students rave about 'Squid Game'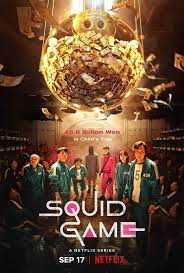 Games like marbles, tug-of-war, and red light, green light often evoke memories of elementary school recess and the laughter of children.
However, with the release of Netflix's latest hit show, Squid Game, images of blood, horror, and utter fear are far more likely to appear in your head for those who have viewed the show.
Netflix's new hit show Squid Game, released on September 17, 2021. Since its release, it has broken records in Netflix's most viewed show, with a total of 111 million people viewing the show in the first 23 days of its release.  It remained on Netflix's most viewed for the first 4 weeks since its premiere, until Netflix's popular show You, released its third season and took the reigning title.
Just to summarize quickly for those who haven't viewed the show, the series is about 456 South Korean residents who have found themselves in deep, unresolvable financial issues. Early in the show, they are each invited to play a total of six children's games for six days, the reward being a 45.6 billion dollar cash prize. The twist of the game is each player who loses the game is immediately killed off but it adds 100 million to the massive piggy bank hanging over the player's heads in a taunting manner. The main character, Seong Gi-hun, is a divorced and indebted chauffer who finds himself among those 456 players. Throughout the show, Gi-hun befriends several other players in order to fight for his survival in the deadly quest.
The show gets its name from the final game in the show and popular Korean children's past-time, squid game.
Students who are fans of the show may describe it as thrilling and nerve-racking, but senior Michelle Gomez appreciates a few other aspects.
"It goes into depth about how easy it's to go into debt and how far a person is willing to go to get money," said Gomez on why she felt the show was such a hit. "Ali and Kang Saebyeok were my favorites, it was interesting how Ali had been treated so poorly and yet was the character with the biggest heart. Saeebyeok had the most interesting storyline, it being that she was a North Korean refugee and how she and her brother managed to survive."
On the other hand, Senior Haidy Canizales mostly enjoyed the thrill of the show and the character background as well.
"When the leader of the game shot his own brother, even though he had initially come to save him made my skin crawl, he killed his own blood," she said. "The old lady who cared for her son (Park HaeSoo) was my favorite, she was a great parent unlike the main character who did everything, but be a good father."
The show's success has fans asking whether or not there will soon be a season 2. Director Hwang Dong-Hyuk has yet to comment, but fans and production foresee a continuation of the series in the near future.