Film Preview with Local Ties: Knock At The Cabin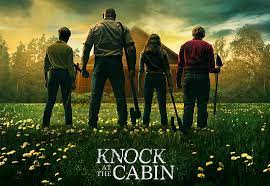 While vacationing at a remote cabin in the woods, a young girl and her parents are taken hostage by four armed strangers who demand they make an unthinkable choice to avert the apocalypse. Confused, scared and with limited access to the outside world, the family must decide what they believe before all is lost.
The film is based off of a 2018 novel written by horror author Paul G. Tremblay called The Cabin at the End of the World, which earned Tremblay his second Bram Stoker Award.
Who are the actors in the film?
The following are that are going to be in the film the Dave Bautista as Leonard, Rupert Grint as Redmond, Jonathan Groff as Andrew, Ben Aldridge as Eric, Abby Quinn as Sabrina, Nikki Amuka-bird as Adriene
Where have we seen them before?
Dave Bautista- was in Guardians of The Galaxy
Rupert Grint- Harry Potter
Jonathan Groff- Frozen, Frozen 2 and Hamilton
Ben Aldridge- pennyworth
Abby Quinn- Better Call Saul
Nikki Amuka-bird- The Omen
Who is the writer?
Manoj Nelliyattu "M. Night" Shyamalan is an Indian-American filmmaker and actor. He is best known for making original films with contemporary supernatural plots and twist endings. He was born in Mahé, India, and raised in Penn Valley, Pennsylvania. The cumulative gross of his films exceeds $3.4 billion globally.
Much like Shyamalan's other movies, "Knock at the Cabin" was filmed in the greater Philadelphia area and South Jersey, with principal photography in Burlington and Tabernacle in New Jersey's eerie Pine Barrens. Some scenes also were filmed at the Evergreen Dairy Bar in Southampton Township.