Criminal Minds: Evolution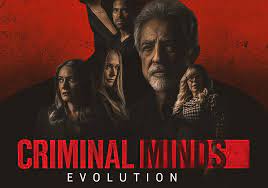 Introduce: Show / What it's about?
Now going to be called Criminal minds: Evolution. According to IMDB, "FBI'S elite team of criminal profiler's faces their greatest threat, a UnSub who used the pandemic to build a network of serial killers. As the world opens back up the network goes operational and team must hunt down one murderer at a time." The new series is supposed to be more darker, more twisted, and maybe even better than the original.
What do we know about the reboot?
The original series was on CBS and had the series finally of Criminals Minds on February 19, 2020. The new series called Criminals Minds: Evolution will be stream the first two episodes on November 24 on Paramount plus.  The reboot will have a total of 10 episodes. Six of the
What is staying the same?
Some of the main characters from the original Criminal Minds  is the following A.J Cook as JJ, Paget Brewster as Emily Prentiss, Joe Mantegna as David Rossi, Kristen Vangsness as Penelope Garcia, Adam Rodriguez as Luke Alvez, John Stewart as Detective William, Aisha Tyler as Dr. Tara. Erica Messer is a screen writer and producer. She has been with this series from the very begging and wanted to have the same feeling as the original series did the new series.
What will be different?
The new series will only focus on one case and not like in the original series, how the case would be solved at the end  of the episode. The one case will be starched out over a 10 episodes series that will be streamed very Thursday on Paramount Plus. Some of the stable characters that were featured in the original Criminal Minds  that are not returning to the reboot is Matthew Gray Gubler as Dr. Spencer Reid. Many for the fans of Criminal Minds fans that love Spencer Reid are very sad at the fact that he will not be making a return to the show.