Memorable Golden Globe Moments
There is always that one moment that always keeps people wanting to see more. Whether that means a funny moment, a thoughtful speech or an unexpected event. These are some of those moments from Golden Globe ceremonies through the years.
Sandra Oh and Andy Samberg's Opening Monologue
While hosting the 2019 Golden Globes Sandra Oh and Andy Samberg's decided on taking a different approach on an opening monologue and give out compliments to the audience. They called out stars such as Lady Gaga, Bradley Cooper, Gina Rodriguez and Jim Carrey. Their awkward, cheesy jokes brought laughs throughout the crowd and provided a comedic aspect for the viewers at home.
Emma Thompson Barefoot and Drinking
Emma Thompson took the stage during the 2014 Golden Globes with her shoes in one hand and a martini glass in the other. You hear the audience laughing as she stumbles through her speech and continues to throw her heels on stage. She then hands the martini glass to an attendant in order to announce the winner.
Ansel Elgort Singing
While presenting the award for the best original song Asel Elgort caught the audience off guard when he decided to sing his line rather than just announcing it. Another thing that caught the audience's attention was Dakota Fanning trying to hold back the laughter while presenting next to him.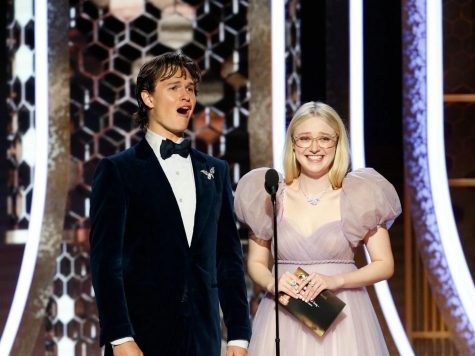 Phoebe Waller-Bridge Gives Shoutout to Barack Obama
After winning the award for best television series – musical or comedy the writer decided to thank one person in particular Barack Obama. She thanked him for putting her on his list of favorite shows and continued to talk about how he has always been on her mind. Hinting at a scene in her show in which Obama was referenced.
Steve Carell Praising His Wife
During the 2004 Golden Globes Steve Carell opted out of writing an acceptance speech and tasked his wife with doing it for him. As he opens the letter which she had written for him the camera turns to his wife laughing as he begins reading the speech. The speech ultimately praises her and all of the work that she did to help him get to that point. She also makes sure to thank the cast, crew, and writers which he doesn't really seem to agree with
Don't forget to watch the Golden Globes on February 28th live on NBC or their website or app . For more information check the Golden Globes website: https://www.goldenglobes.com/winners-nominees