Students plant rain garden on HHS front grounds
Megan Reynolds and Alex Purvis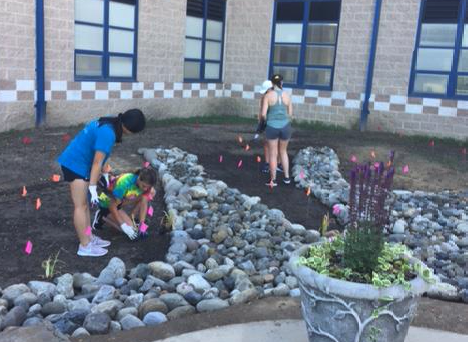 Last Friday May 31 Rutgers University in collaboration with the Pinelands Preservation Alliance arrived at Hammonton High School to plant rain gardens. A rain garden is a type of Green stormwater infrastructure that we use to manage our storm water.
Isabella Castiglioni of the Pinelands Preservation Alliance and ANJEC was here at the scene of aiding in the creation of these gardens. Castiglioni states,  One of the main goals of the gardens is to move slow moving storm water from hard surfaces to streams to help reduce flooding and nonpoint pollution."  Nonpoint source pollution is pollution that starts off on the ground and then gets carried off into our water systems by rain water.
These gardens are built at schools because so many people see them and they are great learning opportunities.  Therefore, the rain gardens are working kind of overtime by serving the functions.
Mr. Entress and Mrs. Ceraso were teachers that brought down some of their students to help in planting.  Around 9 O'clock, Mr. Ramos and Mr. and Mrs. Dey arrived to help planting some of the native grasses and perennials.
The native plants that were being planted were chosen for their deep root system compared to the cool season turf.  The deep root system provide habitats, food, and a resting area for all the native species that live here. The cool season turf is what is commonly found all around.  This grass has a shallow root system which provides little habitat for species.
The rain gardens use native plants of this region to help them habitat, to provide  food, and to provide a resting area for all native species around here.