Art students participate in the Memory Project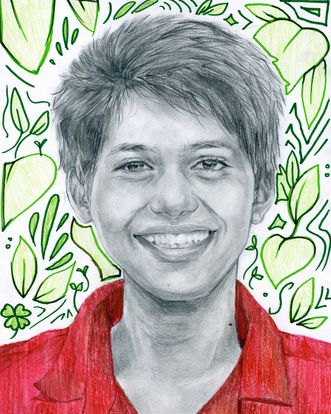 Founded by Ben Schumaker in 2004, the original goal of the memory project is for people from around the world to create handmade portraits of children in orphanages in order to give them positive memories.
"I was passionate about connecting youth around the world through art to help build cultural understanding and international kindness," Schumacher said on his website.
However, that goal has since evolved to include all children who face difficulties and challenges in their personal lives.
Throckmorton learned about the project through an online search but was reminded that now-retired teacher Alice Cook did it years ago.
Students in Mrs. Throckmorton's Art Class were the latest group of artists to create portraits for children.
"I am ALWAYS proud of my students and impressed with their talent. But this particular year felt right, in terms of the amount of CP Intermediate Art (which is basically "Art 2") students who possess ridiculously good art skills, along with a strong work ethic and good time-management," Throckmorton said. "I knew this crew could handle this undertaking, and I hoped they would feel a tug on their heartstrings when I described the project to them."
The Memory Project requires a portrait fee to help facilitate their delivery to India, so Throckmorton needed to raise just under $700. At the suggestion of Coach Flaim, the Key Club adviser, she presented the project to the Hammonton Kiwanis Club, who donated the amount she needed to get the project started. Throckmorton said that Key Club members will help prepare prints of the portraits for display here at the school, and in a local library.
Along with Mr. Toothman and instructional aide Ms. Gangemi, Throckmorton also did a portrait.
"It brought me back to my first passion: DRAWING," she explained. "As a busy working mom, I don't have too much time to draw, but I truly love doing it and I welcomed the opportunity to draw something, especially for such a good cause. More significantly, I am just IN AWE of the beautiful portraits my students created, and so grateful for the time, effort, and energy they put into the process."
Her students enjoyed the experience as well, including seniors Emma Neumann and Aiden Martino.
Neumann liked "getting to experiment with different kinds of art [she's] never tried before" and "being able to do a good deed for someone else."
As both noted, there is something significant about giving someone a piece of art that was made just for them.
"My favorite part of the project was knowing that the original copy will go directly to the kid I drew," Martino said. "It gives the kids something of sentimental value specifically made for them from another caring human being."
Some of the works are on display on the bulletin board by the Media Center intersection along with the photographs that inspired the portrait.