Election offers students to vote for first time
On November 2nd, New Jersey voters went to their polling locations to vote in the state's gubernatorial and local elections, casting their ballots for governor, state representatives, county officials, and, for many towns including Hammonton, town counsel and local school board.
Out of the 321 active members of the senior class, approximately 20% are 18 years of age and are able to vote.
For senior Sofia Purvis, voting was a personal and family matter.
"I voted this year because my parents made me and because I wanted to be heard," said Purvis.
Voting was also important for Carley Barnable.
"I did, because I didn't get to do anything else when I turned 18 and I wanted to do an adult thing. My boyfriend had also brought it up to me and said that I should vote," she said.
Dylan Blackburne considered voting as well but was ultimately unable to.
"I couldn't vote because I was sick," he said.
Voting for young people has been made easier over the past few years in New Jersey, as 17 year olds who are receiving their driver licenses now have the option of taking the first steps in registering to vote at the DMV upon receiving their license.
In New Jersey, youth vote has been on the rise over the past few years. According to the Center for Information & Research on Civic Learning and Engagement, in 2016, 45% of people aged 18-29 voted in New Jersey. In 2020, that number jumped to 67%, which was the highest in the nation. Granted, both of those years were presidential election years, which tend to have a higher voter turn out.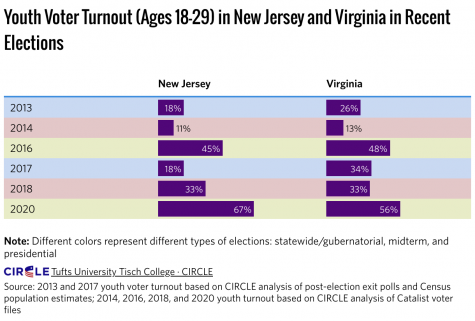 Youth voter stats have not yet been released from 2021, as there has not enough time to analyze voter statistics in depth between Election Day and the time of press.