Class of 2019 should be able to decorate graduation caps to celebrate accomplishments, individuality
To what degree does the student body have a stake in the events that celebrate their accomplishments?
This is the question at hand when it comes to the debate over decorating graduation caps, something that Hammonton High School has not permitted in the past but should reconsider.
Personalizing graduation caps is another way for our school district to recognize and celebrate the diversity that defines the Hammonton High School community.
Over the last four years of our high school career, many activities are successful because of the unique contributions of individual students and the student government. Several examples of this come to mind. The Class of 2019, especially, has made many strides to leaving their unique legacy on the school community. The Student Council officers and members advocated for many changes and improvements to the school climate and morale with events like the Snow Ball, the Spring Fling, Blue and White Fridays, and Senior Movie Night. Several years ago, students took over the role of leading pep rallies instead of faculty members, giving the student body more ownership of the event.
This is not reserved only for senior year. As juniors, we were tasked with determining the Prom theme, managing the budget and setting up the Promenade. While the adviser oversees the process, the goal is for students to take ownership of the event. It is for us, by us. In fact, each grade level defines itself by determining class slogans and themes for the events it sponsors and for Spirit Week.
Last year, the HHS student body rose to the occasion in the wake for Parkland school shootings, organizing a walk out to bring attention to school safety and to recognize those who died in the tragedy.  For many, this experience will stay with them forever. Students also led the way in asking the Board of Education to reconsider what many regarded as outdated dress code policies that had been intact for years. Hammonton High School students may now wear hooded sweatshirts and shorts year round. These rules were tradition at one point, but for what purpose? When questioned, the Board recognized that even though it had been that way for years, those aspects of the dress code did not serve the school or the students  in a meaningful way.
These examples are evidence that challenging the status quo can be beneficial, that tradition for tradition's sake is not always valuable.
We can appreciate the desire to have uniformity on the graduation field; we identify as the Class of 2019, a single group of students who have gone through life together for the past four years, if not more, for some of us who have been together since pre-school. We will all proudly wear the colors of our alma mater, for it is this school that brought us together during some of the most important times of our lives. High school is a time for first loves, figuring out who you are, learning what friends are in for the long haul. It's a rollercoaster of highs and lows as we each explore ourselves and our place in this world. For that reason, the gowns that we wear symbolize our unity. When we stand and sit, the audience will see us move as one.
But we are not identical. We each have brought something different to the table. Our class president Angelica O. advocated as the voice for the class, using her confidence and leadership skills to command whatever audience was before her. Hannah E. used her creative vision and expertise in graphic design to bring life to our hallway for Spirit Week, shirt designs, flyers, and the yearbook. Frankie D. shared his enthusiasm for life and Hammonton while on playing on the field and walking through the hallway. Grace H. gave voice to characters and made her own on the Performing Arts Center stage. Sara P., with her discipline and focus, achieved her goal of a 1,000 points on the basketball court. Evan M. brought ideas to life by creating films that qualified among the top in the state. The talents of Tyler O. on the trombone added depth and emotion to bring music to life through his performances. But this list is not exhaustive. There's so much more we couldn't list here. Like the brilliant colors of the rainbow come together to form something amazing, the Class of 2019 has come together to shine their brightest.
Decorating graduation caps with meaningful or empowering messages can express all the creative personalities, talents, and abilities that we have invested in this school community.
Another facet of this discussion is that seniors are obligated to purchase their caps and gowns for a fee of $40.  We get to keep these items as a reminder of our accomplishments. For the past few years, our teachers and administration encouraged us to take ownership of our education and life goals.  Not only will decorating our graduation caps allow us to showcase who we are now but also will shed light on who we want to become in the future. We are the only ones who can decide the path our lives take; we should get the chance to show the world (and those in attendance at our graduation ceremony) where we've been and where we intend to go. We own our futures.
We acknowledge that decorating graduation caps comes with some concerns. Some believe that the ceremony is more formal if everyone looks the same and wears the same caps. No single person is getting more attention than another when out on the field. This uniformity is the same thing that impresses people when they see a military unit or a marching band perform.  Also, the administration and/or class advisers would have inspect and approve the caps to ensure that they are appropriate.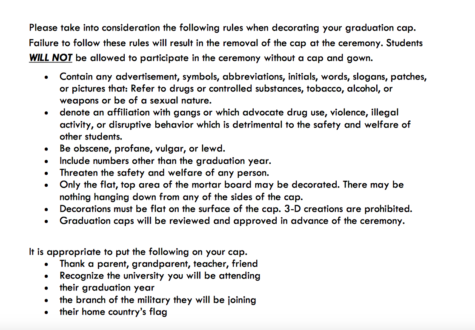 Yes, it may take a little more time to manage this, but we argue that this is no different than when the school inspects luggage for the senior trip or the yearbook adviser proofreads quotes under senior portraits. Guidelines could be included as another parameter in the graduation ceremony agreement. Seniors could bring their caps in advance for approval, and HHS could adopt a policy like that of Ewing High School in Ewing, NJ. While some have suggested that students can wait for college graduation to decorate their caps, not everyone is college-bound. Many will continue with family business, enlist in the military, or go into trade school.
We advocate that our greatest achievement of the Class of 2019 lies not in our uniformity but in our diversity. HHS should allow students to decorate their caps to celebrate their unique footprint on the field and on the history of the school.