Boys Basketball 2018-2019 Season Approaches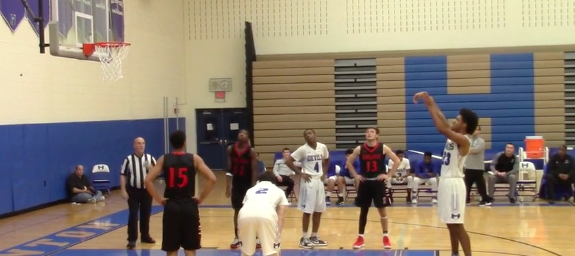 As the cold weather hits South Jersey and the winter sports seasons begin, the Hammonton Boys Basketball program is prepared for the start of their season. The Blue Devils are coming off of a season where they defied the odds. Originally crowned a "rebuilding year", the team proved practically everyone wrong. Fueled by the scoring of Pat Costa, sharp shooting of Smokey Cirillo, high flying of Rey Triboletti, and defensive prowess of Najee George, Hammonton secured the sixth seed in the playoffs and secured home court advantage through the first round.
Although they were dominated on their home court by the eleventh seeded Winslow, suffering a 62-34 loss, the season was a rather positive one, full of great highlights featuring a team that proved they were willing to give it all they had in order to accomplish their own goals.
As for this years team, they are up against rather large odds. Losing a total of seven seniors, four of which were starters, and starting big man Najee George, the team goes into the season with little varsity experience. Although the team has three seniors with three years of varsity experience, none of them have ever had an abundance of playing time at this level.
Besides just experience issues to overcome, there is one gaping hole in particular that could prove to be fatal for this team. An absence of big men could prove too much to overcome. The team will look for big things out of Israel Reyes, Ryan Hughes, Vinny Piantadosi, and any other big men that are capable of making the roster.
According to NJ.com, the roster currently has returning seniors in slashing Ethan Mays, playmaking Nick Lenhart, and sharpshooter Kam Watkins joined with two returning juniors in scoring Ryan Barts, and post scorer Israel Reyes. Names that will be added to that list include wing defender D'Angelo Boone, post scorer Ryan Hughes, hustler Chris Torres as well as more.
Even though there are some returning players from the JV and varsity teams, the roster could possibly see the sight of some fresh faces. Gritty senior stretch bigman Stone Clemente, who has been cut the past three years, looks forward to giving it everything he has in one last attempt at making the team instead of being looked at as only the "basketball teams cameraman". Senior Chris Carmen is also looking for his first attempt on the varsity team, after taking a year off from basketball. Junior transfer Deryck Banks looks to make an impression coming into a completely new system. Also, sophomores Nate Lugo, Owen Mauriello, and Nick Panagopoylos look for possible spots at the end of the rotation.
No matter who is on the final roster, one thing is certain, Head Coach Joe Martino will have the team ready to go, and ready to play intense defense when the season opener comes. No matter what the spectators say, the Hammonton Blue Devils core players know this seasons expectations are low, but are ready to take on the underdog mentality and do whatever it takes to win games.