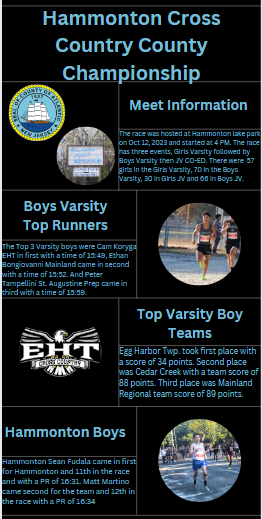 On October 12, 2023, Hammonton High School will be hosting the 2023 Atlantic County XC Championship. It's going to be the first time it's returning to Hammonton since 2016 when Mainland won the meet.
We interviewed juniors Andrew Hoover and Jacob Scarpato who are varsity members of the Hammonton XC team how they are preparing for the race.
When asked about how they are preparing for the race, Andrew Hoover said,
"I am preparing for this just as I normally would, carb up the night before and drink plenty of water, and making sure I get enough sleep."
Hoover also outlined his pre-race routine.
"I don't really have a routine before the race. I just try not to think about it because it causes me stress and I can't be stressed before a race like this."
Hoover also talked about how important this race.
"This race is important because it's the beginning of championship season, and we want to show out on our home course," he said.
For junior Jacob Scarpato, it's all about the preparation.
"Preparing for the race is very important to him," he said. "I want to make sure that I'm is getting the proper nutrition and sleep the night before."
Scarpato also gave insight on any pre-race routine.
"I mess around with the guys a lot, it's how I get rid of my nerves but when I walk up to the starting line, I lock in," he said. "I'm taking this race very seriously, Mojo (Boys XC coach) expects a lot from me and I have a lot of goals I want to accomplish this year and to have the opportunity to complete them at our home course would be amazing."