Marching Band Q&A: Understanding the season and its success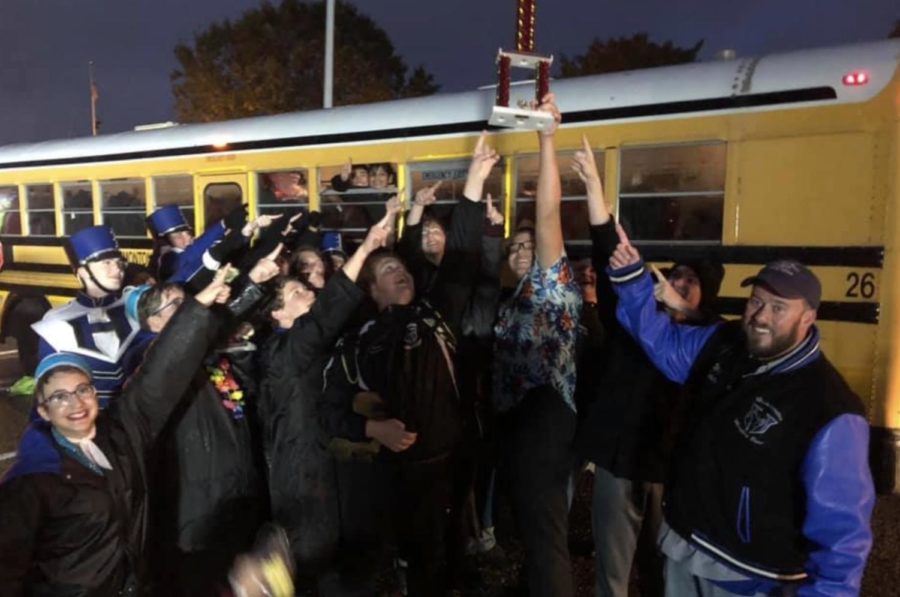 The Blue Devil Marching Band won the 2019 Region 1 – Group 1A Class Chapter Champions with a score of 93.675 today at Delsea Regional High School on October 21. At the Atlantic Coast Championships the next week, they took home a  score of 94.885 and were invited to compete in Open Class.
Director Tim White oversees the program and sat with us to answer a few questions:
The Devils' Advocate:  What does this win mean to you?
White: It's like the ultimate combination of success throughout the season. So we work from July all the way to the end of October, and we try to as i tell the kids to maximize the show to its fullest potential. So we try to get as much out of it as possible as a performance level, and succeeding and achieving this win is just a sign that we achieved that on a high musical and visual level. 
DA: Tell us about what other titles you won. Did you expect them?
White: Aside from winning first place, we also got an award for best visual, which means our basic technique, our feet, our drill, was cleaner than all the other bands. We also won best music, and the musician level with in this band this year has been phenomenal.With the win of course we as a staff knew that was coming down the road as well. 
DA: What's something people don't realize about marching band?
White: The marching band itself, and not just here at Hammonton High School but any high school within college level is a huge component to the public relations to the school. So football games, parades, community events, it's very important to the community and the school district to have a marching band that represents a musical representation of what's happening. Also, the amount of hours the marching band puts in is astronomical. They work hard and they have a lot of talent. 
DA: You scored a 93.675. Obviously, it was the highest one there. What areas did you increase the most in? 
White: Individual Music Ensemble Music, Individual Visual, and Ensemble Visual and Color Guard. 
DA: Not everyone knows how marching band "competes." Can you explain the point system in a nutshell. 
White: So basically they grade on music first and foremost, its broken down into individual music ensemble music, music ensemble visual and they also grade within the category visual. So, they are looking at their feet, making sure that we are marching in step, marching in time, our drill formations have to be clean as possible. Lastly color guard and percussion. Making sure that the percussion is as clean and the color guard is as clean as possible. 
DA: Online, Brian Law indicated that this was an especially sweet win because of some of the challenges the group faced. What challenges were there, and how did they overcome them?
White: By hours of practice, perfect practice makes perfect.