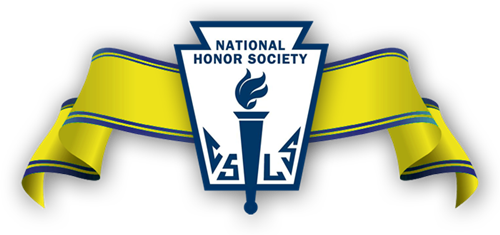 National Honor Society
The purpose of the National Honor Society is to create an enthusiasm for scholarship, to stimulate a desire to render service, to promote worthy leadership, and to encourage the development of character in students of Hammonton High School.
To be eligible for membership, the candidates must be a member of the junior or senior class. Candidates must have been in attendance at H.H.S. the equivalent of one semester. In order to qualify academically, students must have a cumulative scholastic average of 3.2 on the unweighted system. The list of eligible candidates will be posted. Eligible candidates must obtain and fill out a student activity information form (SAIF). This form must be returned to the advisor by the designated date. Only those students returning this form will be included on the faculty reference survey. All eligible candidates, those having a scholastic average of 3.2 on the unweighted system and those having returned SAIF, will then be voted upon by the entire faculty in the areas of character, leadership, and service. However, the results of the faculty voting do not determine the selection of members. A five-member faculty council will use the faculty voting as input in determining the final selection of members. Final selection will be made by a majority vote of the faculty council.
Adviser: Ms. Doughty
Adviser Email: [email protected]
Projected Events/Activities: Freshman Orientation, Back to School Night, HEF's Recycle Central Event, MS Bike ride: food service and water distributions, Senior Citizen at Rehab: Monthly cards and two visitation celebrations, Concession Stand Voluteering, Food Pantries, Feral Cat Colonies, Fall Festivals: Blueberry Crossing, St Anthony, NHS Peer Tutoring, Halloween Safety Play, Shoprite Bagging, Turkey Food Drive, Pennies for Patients, Computer Fun Surveys, Women's Civic Center: Clothes Sorting, Santa Visit and Holiday Shopping, Induction Ceremony, Hammonton Town Clean Up, Musical Play Usher, Summer Safety Play, Graduation Ushers, Red, White, and Blueberry Festival
Remind: Provided to inducted members only
Google Classroom: Provided to inducted members only
Meetings:

Officers' meetings: 8/29/22, then the last Friday of each month
NHS meetings: 9/13/22, then the first Monday of each month
October has additional meetings for goody bags, prop making, and play practices: 10/4, 10/6, 10/11, 10/13, 10/18,10/20, 10/25, 10/26, 10/2