One of Us: Mrs. Carolyn Edwards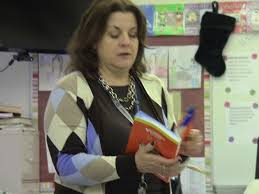 Where did you go to college?
Penn State University as a member of the University Scholars Program in the college of Liberal Arts. I also attended the University of Scranton.
When did you start teaching at HHS?
I started teaching at Hammonton High School in 2011.
Where did you attend highschool?
Upper Darby High School, in Upper Darby, PA.
What degree(s) did you receive in college?
A bachelor's in English and a master's in education, specifically Curriculum and Instruction.
What schools have you taught at?
William Allen Middle School, HMS and HHS.
Why did you choose to work at Hammonton?
I did my student teaching at Hammonton Middle School, and I liked the faculty and students so much. I wanted to teach here.
Finish this statement, when I'm not teaching you can find me…
Reading, cooking, traveling, gardening
What made you want to start teaching AP?
I have always wanted to teach at the college level. Teaching AP allows me to do that at the high school level. After I retire I plan on working as an adjunct or in some other capacity at a university.
What is your message to the new teachers/staff?
I would say get to know your new environment. Get involved in the school. Participate. The sooner you know people the easier it is to feel acclimated.