Superheroes Exist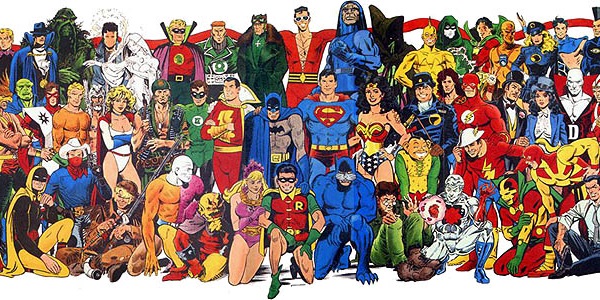 Hang on for a minute...we're trying to find some more stories you might like.
What do Superman, Batman, and Spiderman all have in common besides their names ending in man? You guessed it; they are all superheroes. Superman and Batman have their capes to get them to where they need to be, but Spiderman gets around town by using his web slinging wrists. There is only one problem about superheroes, and that is the fact that they do not exist. Sure, we do have the cute boys who show up to our doors and deliver us our pizza on a Saturday night, but does he fly? No. Does he have spidey senses that automatically get triggered when your house is getting robbed? No. Instead, we just open the door, get our pizza, hand him the money, and he's gone in a blink of an eye. Before you know it, you're ordering pizza every day hoping to see that cute guy again. Devastating, I know.
Hey, I like the saying "not all heroes wear capes", and it is a true statement. My boyfriend is a firefighter. He saves lives. Whenever his pager goes off, I never see him taking five minutes to gather his mask and cape. The second it goes off, he jumps up and rushes out the door. It's what he loves to do. Being a firefighter's girlfriend, believe it or not, is definitely an adventure. You deal with the anxiety of him going to calls, hoping and praying he does not get hurt or, even worse, killed, and, sometimes, you may have to suffer hours on end because some calls are longer than others. So, when my boyfriend has been on a call for two hours and I still haven't heard from him, it is a nail-biting and agonizing experience. Not the greatest.
When Ryan and I first started going out, he was an explorer. He went on calls, sure, but he was not allowed in burning buildings. Not yet. That actually calmed me a little, especially since Ryan has showed me almost every single firefighter movie in creation, and in every single movie, a firefighter loses his life in the line of duty. I look at him like "What the hell, dude? You promised me nobody dies in this flick." And he just looks at me, shrugs his shoulders, and tries to encourage me to keep watching. "It's okay, Lex. Only one firefighter dies in this," he always told me. "Oh, babe, that's great! Just one? Awesome!" Note the heavy use of sarcasm. But now he is a probationary firefighter, which is the next step above explorer. He graduated the school he would go to every other weekend and passed all his tests. He's all set to go into burning buildings now. Fantastic. Just fantastic.
Ryan is my hero. I know that sounds really lame, but he is.
See, to be a firefighter, you not only have to be willing to risk your life, but you have to have serious dedication and commitment to the department of your choosing. You must be willing to put others before yourself, because, well, you are going to do a job that requires saving lives and risking your life to make sure that civilians are safe. Not only that, but you are going to have to prepare for training, and lots of it. My boyfriend recently graduated from the first class of his fire academy, which includes a lot of hardcore and die-hard training. You have to know how to properly hold the hose because that can make all the difference sometimes.
So, to answer your question, yes. Heroes exist. I don't need someone who wears a cape or has the ability to fly to me whenever I am having a crisis. I don't want someone who can shoot webs out of his wrists because that is pretty weird. Firefighters are heroes. Police officers are heroes. People who keep this world safe and a better place are heroes.