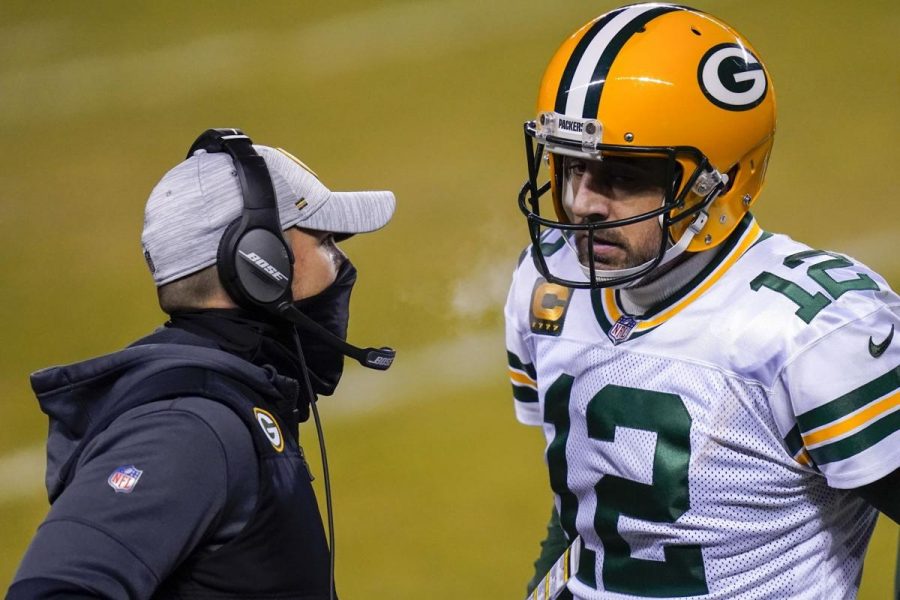 April 29th, 2021 was a big day. The NFL draft was that day but before that, a couple of hours before ESPN's Adam Schefter published an article saying that Packers quarterback Aaron Rodgers wants to leave the Packers organization due to many factors. I am going to dive into the situation surrounding the Packers and Rodgers and cover all points of view.
According to the article that was published on Thursday, April 29th Rodgers has been so disgruntled with the franchise, and so frustrated with the higher-ups in Green Bay that he does not wish to play for the Packers next year unless some major changes are made. In the ESPN article, Adam Schefter explains that Rodgers has built up anger at the team dating all the way back to last year's draft when the Packers famously traded up to draft quarterback Jordan Love over players like Patrick Queen or Tee Higgins. Love would not even be active in any game last season, and it gets better, the Packers didn't even tell Rodgers that they wanted to draft a quarterback at pick 26. A later report came out after the draft that Packers GM Brain Gutekunst wanted to take offensive rookie of the year candidate Justin Jefferson until the Vikings traded up to pick 24 to draft him. Though I don't put much weight on that report. That being said after that pick reports came out that Rodgers was not happy with the pick, and that is fair when your team goes to the NFC Championship game and you pick a quarterback instead of an instant impact player. On the opposing side of things, the Packers just wanted a future especially when your current quarterback is 37 years old. Following that draft, Rodgers had a career year winning his third NFL MVP award amid another NFC championship appearance. Remember when Green Bay passed up on instant impact players in the 2020 draft for a third-string quarterback, well many people believe myself included that if the Packers took linebacker Patrick Queen they would have won that game since the defense that game was lackluster at best.
Multiple sources say that Rodgers is frustrated with the decision-making during the previous offseasons. When current GM Brain Gutekunst became the GM back in 2018. One of the first things that Gutekunst did as GM during the offseason was cut Rodgers favorite receiver Jordy Nelson which obviously did not go over well with Rodgers. Another questionable decision was letting Randall Cobb go to free agency, which left the Packers with only one all-around wide receiver. The Packers had Marquez Valdes-Scantling and Allen Lazard, but they are very one demotional type players while Nelson and Cobb could play anywhere on the field, so that made Rodgers upset. The most recent wide receiver to get cut by the Packers was last preseason or just really training camp because of COVID-19, the Packers decided to cut one of Rodgers favorite receivers Jake Kumerow, the same day Rodgers publicly praised Kumerow for how he was playing. Reports have said that Jake Kumerow's cutting upset Rodgers very much, and has said that he is still upset about the cutting. Gutekunst has also made some questionable moves like signing Jimmy Graham in his first year with the team. Graham played very little and had zero impact on how the team played.
From Rodgers point of view, this looks like an organization trying to move on from the old and rebuild with the new. He also has looked at how other players have left the team through various means where they were either cut or they were not offered a contract to stay with the team after their previous one expired. Rodgers wants a say on how much longer he can play in Green Bay. Rodgers view is that ' I just had the best year of my life, I want to have a say in what goes on around here because other quarterbacks get a say in what their teams do.' This is why Rodgers will stay put on this stance in the matter.
Now once you look at this from Rodgers point of view and you can see why Rodgers would be frustrated and want to leave. Unfortunately, some people don't see what the problem is, Terry Bradshaw stated 3 quotes slandering Rodgers them being: "Him being that upset shows me just how weak he is," Bradshaw said in response to a question about whether Rodgers has the right to be upset. "Who the hell cares who you draft? He's a three-time MVP of the league and he's worried about this guy they drafted last year?"
"For him to be upset, my God I don't understand that. Pittsburgh drafted Mark Malone number one, Cliff Stout in the third or fourth round. I had them coming at me from all angles," Bradshaw said. "I embraced it because when we went to practice, I wasn't worried about those guys. It didn't scare me a bit. So I don't understand why he's so upset at Green Bay."
"I wouldn't budge. Let him gripe. Let him cry. Retire, you're 38, go ahead and retire, see you later," Bradshaw said. "I'm really strong about stuff like that. And it makes him look weak."
Rodgers has not yet responded to Bradshaw and probably won't respond to him. Rodgers has come out not publicly, but privately to an NBC reporter that he is disappointed the news came out about the rift with the team.
Other analysts have sided with Rodgers on this matter, saying that he has been disrespected by the Packers.
The Packers point of view on this matter would be almost like, I don't why he's upset we are just doing what we think is best for the team. They drafted the future in Jordan Love, they cut old and declining players, they drafted well, they have gone 13-3 in back-to-back years, they also have made some good free agency signs in Za'Darius Smith and Preston Smith, even Billy turner was somewhat useful. So from their view on things is very basic 'we did not do anything wrong, we gave him a good team and he wants to leave. This is why they are staying put in the stance that they have taken.
According to new reports days following this year's draft Rodgers wants the GM Brian Gutekunst fired, but there is very little credibility to those reports. Rodgers hasn't spoken to anyone for a while so how could anyone know that he would want the GM fired. Well, one person has officially spoken to him since last Thursday. John Kuhn, that's right the Packers old fullback and fan-favorite says he's has spoken to Rodgers this past week and said the following:
"He's conflicted because this man loves to play the game of football, this man loves to be a Green Bay Packer and this man truly sees careers,… He watched friends leave, he watched Brett Favre's career toward the end. He's watched all these things play out in front of his eyes; he's taken notes throughout his career. He's seen some situations that didn't feel were done or finished the way that they could or should have.He's just trying to take his earned destiny within his own hands. To that effect, I actually admire him because not many players in the NFL have that opportunity. I sure as heck didn't. I played until everybody told me 'you can't play anymore,' and it's a humbling feeling. Aaron Rodgers has an opportunity to take a little bit of that power."
To sum up the quote Kuhn said that Rodgers has watched many of his teammates leave and he has taken notes, he now wants to be in control of his future so that he does not end up like Jordy Nelson for example. With all the rumors and the points of view taken into account, how will this problem get solved?
Think about it the team went out and drafted a quarterback in the first round, they were just trying to build for the future. That the business of the NFL rebuilds while trying to win to stay relevant. For the Packers, this has worked for them in the past so wouldn't work for them in the future? That is because we are in a time where Rodgers isn't near the end of his career, he has said himself that he wants to play into his 40s. That's at least 3 more years with Rodgers, and by that time Love would not have seen the field at all, so it would be a waste of a pick. Another point to add from the Packers view is that they offered to make him the highest-paid player in the NFL, Rodgers declined the deal, not because of the money but because he wasn't happy with the moves that the team was making. Meaning that the Packers from their view basically have been told that I don't care how much you pay me. I am not playing unless changes are made. But will changes be made? I think that Rodgers will come back to Green Bay, and I also think that the Packers will have to make a choice between their lackluster GM or their star quarterback. I believe that Gutekunst will be fired, and this will be very ground changing in the NFL. We have never seen a player win one of these "stand-offs" with their front office, but I believe that Rodgers will win out and this will give players a lot more power than they have ever had before.