Will JT Realmuto Be Back By Opening Day?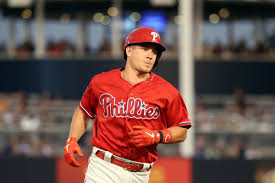 JT Realmuto is the Philadelphia Phillies starting catcher. He is arguably one of the best catchers in the league.Earlier this year he signed a 5 year $115 million contract to return to the Phillies. Last season with 11 games he had 29 at bats he hit a .310 with OBP of .412 with 9 homers and 6 RBIs.
Last month, a few days before the Phillies Camp started he fractured his right thumb. Realmuto had to block a ball in the dirt by pitcher José Alvarado causing his injury. He was put in a cast which was taken off on thursday March 4th after getting X-rays. It is now in a brace and he has started swinging a bit again and softly throwing.
If Realmuto is not healed in time, Andrew Knapp would take over behind the plate. Knapp hit .286 with a .375 OBP in 7 plate appearances last season
Realmuto is very optimistic and is set on being back for opening day on April 1st.He has a great attitude going into this and sticking with it and knowing that he is going to be okay to produce a great season for not only himself but for the whole team and the fans.