Are school suspension effective?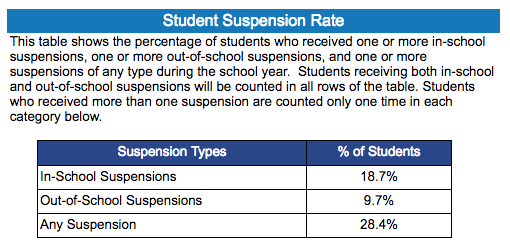 Hang on for a minute...we're trying to find some more stories you might like.
The district homepage features the 16-17 school report for Hammonton High School, and in this report for the state of New Jersey contain a lot of figures to boast about, including a 14:1 teacher ratio and only a 1.3 % drop-out rate.
However, the student suspension rate stands out as particularly high, especially when many debate how effective suspension actually is.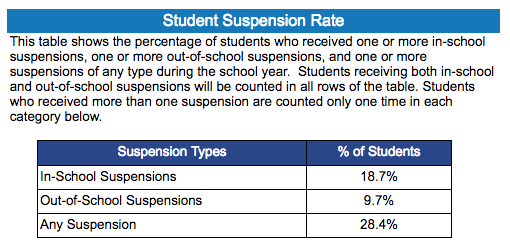 First, a little history about school suspension. It became very common practice in the 1960s and 1970s. Some attribute this to an increase in violence linked to the desegregation of schools. School administrators believed that removing the students from the altercation was the best solution. Perhaps in these cases it was. 
Suspension occurs in two forms: in-school suspension (ISS) or out-of-school suspension (OSS). Using the policies put forth by the Board of Education and outlined in the student handbook, administrators determine what's worthy of what punishment. Things like violent fighting, possession of weapons, or drug-related instances are penalized with OSS. Skipping detention, class or insubordination often earns an in school suspension.
ISS is all day consequence. Teachers are notified and asked to provide work for the student the day before. Students remain in the ISS room from the start of the day until the end; seniors are dismissed early only they have senior privilege. Students who receive OSS are prohibited from attending school or any school event until the period is over.
With such a high rate of suspensions for HHS during the 16-17 school year (28.4%), one must consider just how effective it is in actually deterring negative behavior.
According to some research, people who are suspended for a long period of time tend to fall behind in school work. Once a student is back to class, it takes time for them to adjust back to class  and catch up and truly understand the material being taught.
Not only are they behind in work, but also have a lot of absences, a student can become more frustrated and possibly more likely to act out again due to stress. Perhaps contrary to what administrators hope, some students prefer being away from school during the suspension and take an advantage of being out.
Vice-Principal Dr. Rudnesky admitted that while suspension has it flaws, it can offer student academic opportunities as well. 
"There's not many things we can do for discipline other than detention and suspension," she said. "Some kids actually they like to get in school, because they manage to catch up with class work."
Ultimately, she acknowledged, the effectiveness depends on the student.
"There are certain students who prefer being in a alone quiet setting while others don't really care about school and just say 'I never want to be here in the first place, so just suspend me'."
Mr. Ramsay, the principal, prefers to keep students in class but doesn't believe it compromises a student's academic progress when they are in ISS.
"We do have a certified teacher in there each period somebody with a teaching certificate in there," he said. "The students also have access to the internet and the computers."
Both Dr. Rudnesky and Mr. Ramsey believe that suspension does work in deterring negative behavior and is effective, but the ultimate responsibility falls on the student.