Getting over heartbreak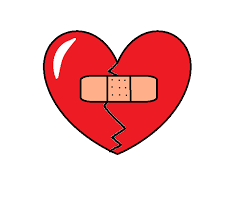 Hang on for a minute...we're trying to find some more stories you might like.
So I have recently had my first heartbreak, and it devastated me. The thought that they won't be in my life anymore, I won't be in theirs, they seem so happy without me, I'm crumbling without them, and so many more things that made me heartbroken, enraged, empty, in denial, and other awful feelings.
However, heartbreak is a part of life, and it will again and again until you finally meet the person who is truly right for you. At the moment, you may feel that you will never get over them, and it is the end of your world. What's even worse, is people who don't understand how you feel reminding you constantly that you're "just a kid," and to "forget about it." Even though all this is happening though, you WILL eventually get over it. Here are some tips to help speed the progress:
Don't talk to them at all. Don't look at them, cut them completely out of your life. Try not to think about them.

Delete all pictures/videos of them. Take them out of your contacts, unfollow or block them on social media, and don't ever look at their account.

Don't blame yourself for the breakup. There were two people involved, both probably had faults.

Don't try and rush into another relationship to get them jealous, or anything else or "revenge." They're not worth your time.

Read "getting over breakup" quotes, self-help books, and articles online on how to get over someone.

Stay strong; don't ever go back to them. If they try to talk to you, or get back together, don't do it, especially if this happens repeatedly. If they didn't want you to be in their life anymore, then they don't deserve to be in your's.

Don't avoid your pain. Talk about it with close friends and family, or other trusted people. Cry it out, let out your anger on a pillow, write stuff down.

Realize you won't get over this in two days. Or even two weeks, maybe even two months. It'll take time to get over them, and it is not going to be quick. But it will happen.

Think of every little thing you didn't like about them, whether it be from the tiniest, pettiest thing from their appearance, from the biggest, ugliest thing about their personality. There ARE things you don't like, even if you wouldn't admit it when you were dating them.

Listen to happy music, and "getting over breakup" music.

Hang out with friends.

Focus on yourself; build your self-esteem, tell yourself you love yourself more than anyone else, and do activities that you love and distract you. Try something new, even!

Remind yourself to feel sorry for them; they lost someone great and who would have never given up on them. Feel happy for yourself; without them, you now have a chance again to find that.
There are many other ways to get over someone; search it up. I'm still trying to get over my heartbreak, as you probably still are, and I know it can be hard. Some days I don't care, and others they're all I can think about. Your view on it will change left and right in a matter of days, maybe even minutes sometimes. This is normal. However, these feeling will gradually fade, and you can help them go away fast with these steps and more.