One of Us: Mr. Barbagallo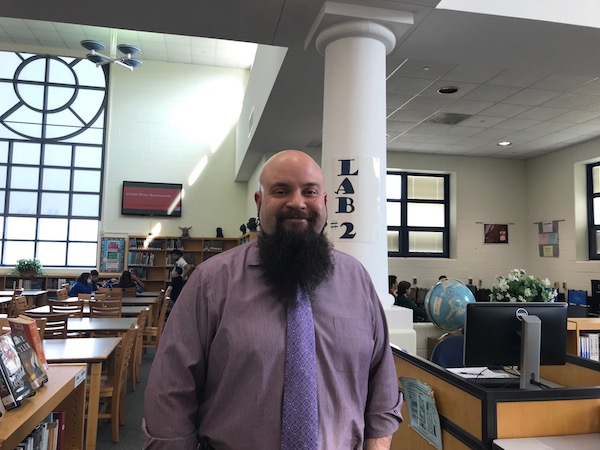 Deanna Elkin, Reporter
April 12, 2018
Mr. Barbagallo has been teaching CP and AP psychology for 14 years at Hammonton High School. He attended Hammonton as a student and once graduation went to Rowan University once graduating there he went to Wilmington college for his graduates degree. What made me decide teaching psychology was I absolutely fell in love with the realm of psychology and figure, "What better way to share my love of psychology, than to share it with other generations of student/children."
What made you decide to become and teacher…I absolutely fell in love with the realm of psychology, and figured, "What better way to share my love of psychology, than to teach it to future generations of students/children."  I have been teaching for 14 years now.
If you could travel anywhere where would you go..My bucket list is far too long to choose just one place, but wherever I go, there has to be: good food, good friends, and plenty of laughter. It doesn't matter where you go, if you don't have someone special to share the sights with you.
What's your favorite color…As much as I am probably not allowed to admit it while teaching in a school that's school colors are black and blue, I really love the color red.  I don't wear it too often, because I would wind up looking like the "Kool-Aid man."
Favorite band…Once again, it is tough to choose a singular band, but if I had to choose a band I always seem to come back to, it would have to be Pearl Jam.  They have a song for just about every mood that I am in, and every emotion that I am feeling.
Favorite movie…This one is easy. I love horror movies, and my favorite would be the original "Nightmare on Elm Street."  It was an original concept that scared the daylights out of me as a child, and I still watch it several times a year.  I really enjoyed just about all of Wes Craven's movies – especially he tongue-in-cheek horror spoof, "Scream."
Childhood inspiration and why…My father is, was, and always will be my hero.  He worked selflessly for the bulk of his life so that he wife and four children had everything they ever wanted. He is a man that is: wise, cultured, worldly, and has a genuinely good heart.  I still go to him for advice all of the time, and know that he always has my best interests in mind. I really don't know where I would be in life without him.
Biggest pet peeve… People that use the "r" word. It's such a poor word choice, and such a disgusting trait to show the world.  To me, it says that the person using it has a limited vocabulary, as has no ability to empathize with those that the word refers to.
Favorite TV show…This is a toss up. It would have to be either "Married with Children" (an 80's sitcom about a completely dysfunctional family) or "The X-Files" (a 90's sci-fi show about extraterrestrial life and other unexplained phenomena). Both were fairly groundbreaking shows, that pushed the boundaries of what to expect from a "TV show."
If you weren't a teacher what would you be… I'm not really sure, though I would love to own my own car detailing business/shop.  When I am not teaching during the summer, I run my own small business out of my home, and I always love to see the end results and smiles on people's faces when I give them their car keys back.