Students learn about court system in Mock Trial competition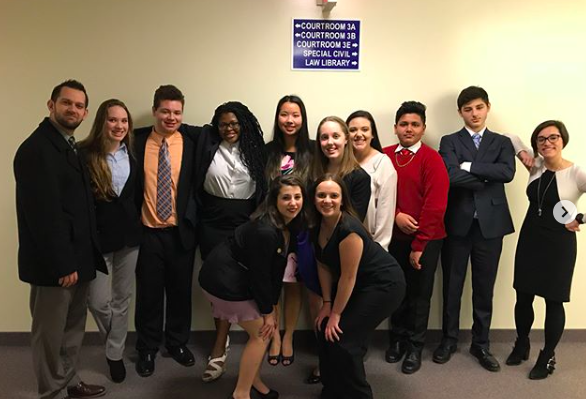 Hang on for a minute...we're trying to find some more stories you might like.
Dana Martin claims she's innocent.
Even though she is friends with Zachary Simon, she swears she didn't sell him drugs. According to the case file, Simon was found by his mother and died of a fentanyl overdose. He was constantly in and out of rehab, Simon has had a drug issue for years, but Detective Rory Bernard believes the defendant should be held accountable.
 Is this an episode of Law and Order? Not quite. It is the court case that the HHS Mock Trial team argued in the courthouses of Atlantic County.
What is Mock Trial? In this club, students participate in rehearsed trials to learn about the legal system in a competitive manner. Team compete to prove if the defendant is guilty or not guilty, a real judges grade the lawyer and witness performances to determine a winner.
 The Bar Association from each state that participates in the program comes up with a case that is then given to the high schools that compete. The case packet that is given to high school teams is a series of documents which includes the charges, stipulations, case law, jury instructions, exhibits, and affidavits. Students then have to decide on roles and come up with "scripts" that don't exceed the scope of the affidavits. Every year, the case alternates between a criminal and civil trial.
 The prosecution has to make a case that proves that the defendant is guilty. The defense has to make a case that is going to poke holes in the prosecution's case, for a not guilty verdict to be returned.
 Over the course of three months leading up to the competition, the HHS team members formed a close bond. They spent approximately 60 hours trying to prepare for the trial, which helped them advance to Round 2 of the competition after a win against Atlantic City's defense on January 11.
 The team's defense attorneys Katelyn Clark and Julianna Hegeman worked diligently to prove that the prosecution's case was a web of possibilities. Because the prosecution only produced circumstantial evidence linking Martin to the crime, Martin's defense team sought to plant seeds of doubt in the minds of the jury members.
 Clark explained the strategy.
 "As the defense we pointed out that there's nothing that really definitively places the blame on our defendant," she said. "Because the evidence is circumstantial we showed that it relies on inferences and you can't actually definitively place the blame on Dana Martin."     
The defense team had three witness' testify for their side. First was Francis Martin the defendants grandmother/ guardian, next Dana's best friend Harley Novak, and finally Dana Martin herself.  
 For prosecution attorneys Riley Patterson and Dan Curcio, it seemed pretty obvious who was to blame given the sheer amount of circumstantial evidence.  
 "It would have been different if it was one or two things but it was like ten different things that you could really connect back to the defendant and really paint the story of that there was no other option except for this to happen," Patterson said.
 The prosecution team had three witness' prepared, including veteran detective Rory Bernard, Martin's mother, and Carson Silva, who is an informant trying to work out a plea deal.  
 The Mock Trial case revealed a profound truth about life: the same scenario can be looked at from two totally different viewpoints, and prompt completely different conclusions.
"I wish we got the chance to compete more," Curcio said. "We only got the chance to go twice. If I got the opportunity to do it ten times, I know I'd be even better."    
 For foreign exchange student Harsh Desai, Mock Trial provided a unique look into the American court system.
 "It was difficult, very different from what I'm used to," he said. "I've never been to a courtroom before and I was able to after joining this club. I really liked it."
 For Mr. Anthony Angelozzi, who advises the club, Mock Trial teaches more than just the courtroom.
"I think a desire for self improvement is the key characteristic of Mock Trial participants" Angelozzi stated. "Team members have to build enough confidence to speak in public, memorize large amounts of information, and consistently attend practices that require critical thinking skills"
According to Angelozzi, he "accidentally" became an advisor during his first year teaching when an student interested in Mock Trial begged him. Ten years later, he's still in it.
Along with Angelozzi, Jessica L. Rodio advises the club as its lawyer coach. Rodio is a lawyer herself at Weiss & Paarz Medical Malpractice Attorneys.  
"I am excited working with young people who are interested in the law," Rodio said "I was eager to get volunteer for something in my town".
 Her legal insights proved to be a valuable asset to the team. Her most important advice?
 "I think for all attorneys and witnesses one of the most important parts of your presentation is to make sure your voice is loud enough," Rodio said. "It gives you a real presence and confidence in the courtroom that tends to overpower other nerves and mistakes"