5 Broadway Shows to See During Broadway Week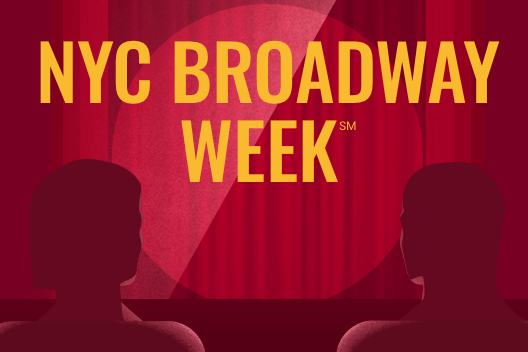 Broadway Week is an annual event that runs from January 18th to February 27th this year that includes a great deal and opportunity for Broadway lovers to see their favorite shows.  The deal is a 2-for-1 price for Broadway shows, meaning you only have to pay for one ticket, and the other ticket is free!  The deal is included for most ongoing shows, so let's break down the top five shows to see while this offer is around!
Dear Evan Hansen
Dear Evan Hansen has been open since December 4, 2016, and focuses on many deep and important issues throughout the show, especially on mental health.  Evan Hansen is a senior in high school who struggles with anxiety and depression.  It has never been easy for him to make friends and not overthink every decision and possible scenario in his head.  Soon, his life turns in a different direction for better or worse as his letter to himself, assigned by his therapist to help with his confidence, gets lost and handed to the wrong place and time and miscommunicated as something else entirely bigger and far more severe.  Evan now has a choice to come clean and tell the truth or play along with the false narrative and gets to do what he has always wanted, a restart.
Wicked
The iconic Broadway musical is a prequel set long before the classic movie, The Wizard of Oz and follows the story of the wicked witch of the west, Elphaba, and the good witch of the south, Glinda.  Elphaba and Glinda have their many differences and are enemies throughout the musical, but a friendship starts to bloom unexpectedly between the two until people around them say otherwise.  The show opened on October 30, 2003, and is still loved and praised as one of the best Broadway shows for years and has many popular hits, including "Defying Gravity," "The Wizard and I," "Popular," and "For Good."
Aladdin
The Disney 1992 classic animated film, Aladdin, became a Broadway musical on March 20, 2014.  It follows the same storyline as the original animation, with minor differences separating them and making it a unique production.  The musical also contains many more original songs than the five songs from the animated film.
Chicago
Chicago is a Broadway musical that has been around for a while now.  It originally opened in 1975 and ran until 1977, but nineteen years later, the revival opened back up on November 14, 1996.  The show also got a movie adaptation in 2002 that did well at the box office and boosted its popularity and has been running since then.  The show just celebrated its 25th-anniversary last year.  Set in the 1920s follows the story of Roxie Hart, who later commits a crime and tries to rally up the best criminal lawyer she can get to refuse conviction.  Later on, she ends up in prison with her cellmate, Velma Kelly, but that does not mean that her imprisonment does not drive the headlines wild.
Moulin Rouge!
The last Broadway show on this list is not one to miss.  Some might remember the movie adaptation released in 2001, starring Nicole Kidman and Ewan McGregor.  The Broadway show recently opened on July 25, 2019.  Set in Paris, Christian, a poet struggling in the 1890s, attends the Moulin Rouge one night and falls ultimately in love with the famous singer Satine.  Although they end up together in secret, Satine has already promised to be married to the Duke to fund the productions.  Satine, though, is also hiding an important secret from both Christian and the Duke that could destroy both ends of the triangle.